In the rapidly evolving field of dental and medical imaging, selecting the right Cone Beam Computed Tomography (CBCT) scanner is crucial for practitioners seeking precision, diagnostic accuracy, and improved patient care. One standout option in this arena is the Green X by Vatech. In this article, we'll explore what factors to consider when choosing a CBCT scanner and highlight why the Green X is a compelling choice for modern dental practices.
1. Imaging Capabilities
When evaluating a CBCT scanner, the first and foremost criterion is its imaging capabilities. The Green X is a 4-in-1 digital x-ray imaging system, offering panoramic (Pano), cephalometric (optional), CBCT, and Model Scan. This comprehensive range of imaging modalities ensures that practitioners have the tools they need for various diagnostic purposes.
2. Radiation Dose Reduction
Patient safety is paramount in dental and medical imaging. The Green X is designed to provide high-quality images while minimizing radiation exposure. By combining advanced image processing techniques, it achieves lower radiation doses compared to conventional scanners. This reduction in radiation not only enhances patient safety but also contributes to the overall diagnostic accuracy.
3. Endodontic Excellence
For endodontic specialists, the Green X offers an Endo mode with high resolution. With a 4cm x 4cm volume mode and 50-micron voxel size, this mode optimizes the treatment of highly-focused regions of interest. It is ideal for endodontic use, enabling dentists to obtain extraordinary high-resolution images for precise diagnosis and treatment planning.
4. Efficient Workflow
Efficiency is key in a busy dental practice. The Green X minimizes scan time, reducing motion artifacts and enabling a faster workflow. This not only benefits the practitioner by producing superb diagnostic images but also improves patient care by minimizing stress and waiting times.
5. Artifact Reduction Technology (ART-V)
Clear images are essential for accurate diagnosis and implant planning. The Green X employs Artifact Reduction Technology (ART-V) to reduce metal artifacts that can hinder visualization and decrease diagnostic confidence. Clear, artifact-free images contribute to more confident and precise treatment planning.
6. Multi Field of View (FOV) Selection
Different diagnostic needs require different FOV sizes. The Green X offers a range of selectable FOV options, including 16x9, 12x9, 8x8, 8x5, 5x5, and 4x4. This flexibility allows users to choose the optimal FOV mode while minimizing unnecessary exposure to areas outside the region of interest, enhancing diagnostic precision.
7. High-Quality Panoramic and Cephalometric Imaging
The Green X provides high-quality panoramic and cephalometric images, setting a new standard for diagnostic value. Enhanced details, especially in the anterior and dental roots, ensure that practitioners can make more precise diagnoses. Additionally, the scanner offers specialized high-quality cephalometric images with optional Full Lateral views for comprehensive diagnosis.
8. Unrivaled Resolution
One of the standout features of the Green X is its unrivaled image resolution. With a remarkable resolution of 49um, it stands as one of the best in the market. This exceptional level of detail in images ensures that dental practitioners can visualize even the tiniest structures with incredible clarity. The high resolution of the Green X elevates its diagnostic capabilities, allowing for precision in treatment planning and diagnosis that few other scanners can match.
In conclusion, when selecting a CBCT scanner for your dental practice, it's essential to consider factors like imaging capabilities, radiation dose reduction, endodontic features, workflow efficiency, artifact reduction, FOV selection, image quality, and resolution. The Green X by Vatech excels in all these areas, making it a compelling choice for practitioners looking to provide the highest level of patient care and diagnostic accuracy. With its advanced features and commitment to patient safety, the Green X represents the future of dental imaging technology, offering unparalleled resolution that sets it apart from the competition.
Dr Massimo Giovarruscio discusses the decision-making process for replacing his CBCT machine with a new model from Vatech – the Green X.
When I was first introduced to CBCT imaging about 10 years ago, I was pessimistic about its advantages in endodontics. Today, my opinion couldn't be more different. I have seen just how critical CBCT imaging is for an accurate diagnosis as an endodontist and it has become the best investment I can make in my practice.
Now, I believe it is a mandatory part of the initial patient assessment. Only with the detailed information a CBCT scan provides can I make the right diagnosis. I use CBCT imaging for every single patient that I see, whether they are attending for the suspected treatment of a primary tooth or for retreatment.
I would strongly recommend that colleagues offering endodontic and general dental services do the same. CBCT imaging should be utilised routinely to ensure that we are working with all the information we possibly can when designing treatment. It is a great way of ensuring accurate treatment plans with minimal complications. But it also provides peace of mind from a medico-legal perspective too.
Multiple advantages
Though I have not done so for some time, I do appreciate the potential challenges of referring a patient out for a CBCT scan. This process can cause significant delays to the treatment journey, impacting both patient and practice. It is impossible to complete the diagnosis and plan without the images. So everything is on hold until these are sent to the practitioner.
While there is a considerable investment involved, the advantages of an in-house CBCT are multiple. The cost justified with demand. For those not able to invest, referring to the right practice for imaging is key.
I often receive referrals from fellow dentists who need assistance for endodontic cases that are more complex than they initially thought. For example, I commonly see patients whose GDPs have accessed a cavity but struggled to identify the root canal anatomy.
With a CBCT, I am typically able to find missed or additional canals. I often come across perforations in the tooth caused because the dentist didn't originally have the facilities to properly visualise the root canal system. With the additional detail that a CBCT scan provides, I can more predictably decide if a case is treatable.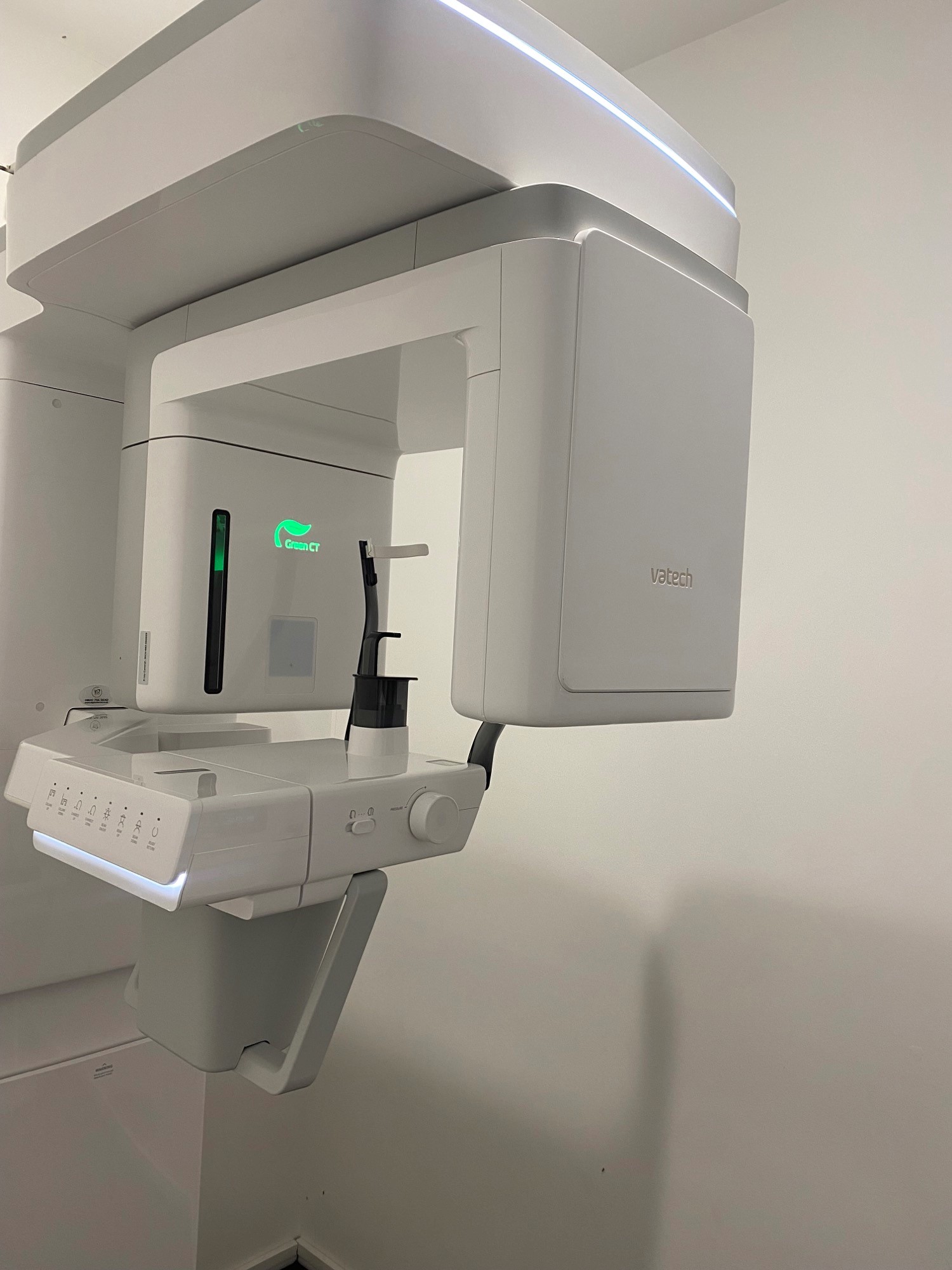 Main factor
So, with my previous CBCT machine needing an upgrade, I was on the market for new technology. I turned to Vatech as I had been introduced to the company through John Anderton at Digital Dental. I was most interested in the quality of the images that would be provided. Given that I use the CBCT every single day, this was very important to me.
When John demonstrated the images from the Green X CBCT, I immediately noticed the difference from scans I could obtain using my old equipment, which were nowhere near the same quality.
I also loved that the machine could deliver high quality images at a low radiation dose. This ended up being the main factor in my decision-making process. Again, using the CBCT routinely means that I need to do so in a safe way for my patients. Keeping the dosage as low as possible is how I can achieve this.
The many field of view (FOV) options are also very good, allowing me to narrow down what I want to look at where appropriate. The smallest voxel size is 0.0495 microns, which still provides unbeatable high-definition image quality in the 4×4 Endo Mode. In addition, I have been impressed that the Ez3D-I software shows a 3D root canal image and that you can both adjust the pulp level and segment the teeth to differentiate between the jawbone and teeth.
The service from Digital Dental is making the learning curve as simple as it can be. From the installation process – which was smooth and efficient – to the on-going support available, the team have been extremely helpful.
'Best investment I have made'
The training has been delivered by Digital Dental and Vatech. It provides a good amount of information for my experience level with the equipment at the time. I hope to look into the Scout View next so that I can be even more precise when I select a single tooth.
In summary, I have been impressed by the equipment and service from Vatech – and so have my patients. They have commented on and appreciate the good design and the sophistication of the machine, with features such as playing music during their scan proving popular.
I would definitely recommend the Green X CBCT and Vatech to colleagues looking for new technologies for their practices. It has been the best investment I have made in my practice.
---
To find out more, please visit www.vatech.uk.com/green-x